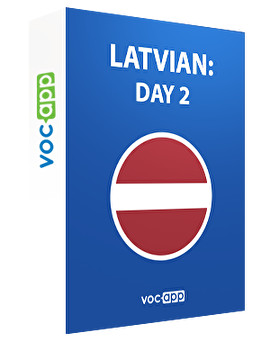 Latvian: day 2
Continue your journey with Latvian language
Take the next step in Latvian language learning
Learn new Latvian vocabulary and gain confidence in speech
You will learn simple and commonly used Latvian phrases
Our unique education system will help you to learn faster
×
¿Alguna pregunta?
Crear una cuenta >

Seleccione una forma de pago

>

Pago

>

La confirmación del registro
prueba de forma gratuita (20 tarjetas)
comprar el curso completo
Numbers - Skaitļi




60 tarjetas

And, or, but, so - Un, vai, bet, tāpēc




23 tarjetas

Space - Vieta




32 tarjetas

Useful nouns - Noderīgi lietvārdi




36 tarjetas

Useful phrases - Noderīgas frāzes




20 tarjetas

Features - Īpašības




30 tarjetas

Time - Laiks




26 tarjetas

A typical conversation from a student's book;) - Tipiska saruna no māc...




15 tarjetas

mostrar todas las lecciones (10)
Tu satisfacción total o te devolvemos el dinero.
Todos los cursos constan de una garantía de devolución del 100% del precio pagado.
Para utilizar la garantía no se requiere presentar ningún tipo de justificación.
Se puede utilizar esta garantía durante 30 días a contar desde la fecha de compra.
El dinero se devolverá mediante transferencia bancaria en la misma cuenta utilizada para la compra,
en un plazo máximo de 30 días a partir de la recepción de solicitud de uso de la garantía de devolución.
La solicitud de uso de la garantía de devolución se puede realizar vía correo ordinario, o mediante correo electrónico.
Marcin Młodzki
,
vicepresidente
(Varsovia, a 1 de octubre de 2018)
VocApp Sp. z o.o.
ul. Mielczarskiego 8/58 | 02-798 Warszawa

TAX NUMBER: PL 951 245 79 19
vocapp@vocapp.com
Dirección
VocApp Sp. z o.o.
ul. Mielczarskiego 8/58
02-798 Warszawa
NIP: 951 245 79 19
REGON: 369727696
Latvian basics
Do you want to learn Latvian basics, then use Latvian flashcards, and learn new Latvian words, like how to say cheers in Latvian . You will learn Latvian vocabulary, and speaking Latvian will be much easier because of our special teaching system. You will memorize Latvian words faster using our flashcards. In Latvian day: 2 course you will learn counting in Latvian, and so much more. Try out our second Latvian language course today, and you will learn Latvian grammar with flashcards . Now you can learn Latvian easier.
Why learn Latvian?
Latvian language, is one of two Baltic languages. Latvian is an Indo-European language that is spoken in the Baltic region, the territory of Latvia. If you have just moved to Latvia, or you are planning to come to work or study.to learn Latvian by app is the best choice. You can decide where and when to learn Latvian. Latvian language phrases are fun to learn using mobile app. You will find a simple conversation easy to start when you get to know the basic Latvian phrases. Latvian language will become easier to understand when you have an app that you can check time by time to memorize Latvian words. You will learn to pronounce Latvian words, and you will feel more confident saying basic phrases in Latvian. Moreover, Latvia has a unique culture and history. The Latvian vocabulary will bring many benefits in the academic and professional fields.You will feel more comfortable while spending your time and living in Latvia. You don't need to look for a translator to translate English to Latvian phrase like "where is the closest shop?" because you will find all the useful phrases in our flashcards. So start learning today, and you will soon become confident when speaking Latvian.
Take a look at our course: Everyday phrases in Latvian
---