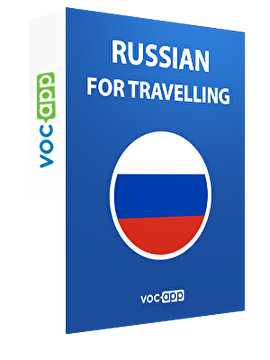 By car - На машине




25 tarjetas

By plane - На самолёте




34 tarjetas

By bus - На автобусе




30 tarjetas

Hiking - В походе




20 tarjetas

By ship - На корабле




10 tarjetas

At the restaurant - В ресторане




38 tarjetas

At the embassy - В посольстве




15 tarjetas

Border - На границе




13 tarjetas

mostrar todas las lecciones (23)
Tu satisfacción total o te devolvemos el dinero.
Todos los cursos constan de una garantía de devolución del 100% del precio pagado.
Para utilizar la garantía no se requiere presentar ningún tipo de justificación.
Se puede utilizar esta garantía durante 30 días a contar desde la fecha de compra.
El dinero se devolverá mediante transferencia bancaria en la misma cuenta utilizada para la compra,
en un plazo máximo de 30 días a partir de la recepción de solicitud de uso de la garantía de devolución.
La solicitud de uso de la garantía de devolución se puede realizar vía correo ordinario, o mediante correo electrónico.
Marcin Młodzki
,
vicepresidente
(Varsovia, a 1 de octubre de 2018)
VocApp Sp. z o.o.
ul. Mielczarskiego 8/58 | 02-798 Warszawa

TAX NUMBER: PL 951 245 79 19
vocapp@vocapp.com
Dirección
VocApp Sp. z o.o.
ul. Mielczarskiego 8/58
02-798 Warszawa
NIP: 951 245 79 19
REGON: 369727696
Why should you visit Russia?
There are many reasons to travel to Russia! It is a huge country with a lot of diversity and uniqueness! Your trip to Russia should definitely start by visiting its capital - Moscow, famous for its churches, cultural life, the magnificent Kremlin and Red Square. Another place to see in Russia is Saint Petersburg, the capital of Russian culture. It was founded in 1703 by Tsar Peter the Great and is located on the Neva River. Some of the most beautiful museums and cultural spots are located there, for example, the Hermitage. When travelling to Russia, don't forget to visit the Golden Ring, formed by some of the most interesting cities in Russia: Suzdal, Kostroma, Yaroslavl and more. Sochi is one of the greatest places to see in Russia. It is the city that hosted the 2014 Winter Olympics and the 2018 Fifa World Cup. Here, you can enjoy great sand beaches and the salty Black Sea. Visiting Russia is a great idea but for the best experience, we propose a special Russian course to teach you basic Russian that you will need during your trip.
Common Russian phrases you need to know!
We gathered the most useful Russian words and Russian phrases in one course to help you prepare for your trip to Russia. Our flashcards will present you basic Russian phrases and words along with a picture to help you remember. Each flashcard includes the Russian words in English, their definitions and explanations, Russian sentences and hints. You don't have to worry about Russian pronunciation anymore! You will learn it with our flashcards! This Russian course will teach you how to say hello in Russian. You will also learn how to say thank you in Russian and my name is in Russian. You can use this course as a Russian dictionary during the trip or download it and use it as an audio course to listen and learn Russian vocabulary on the go. If you want to be even more prepared while visiting Russia, learn more basic Russian with our special courses: Russian in 1 day and Russian: day 2!

Learn Russian fast with VocApp to impress the natives!
---