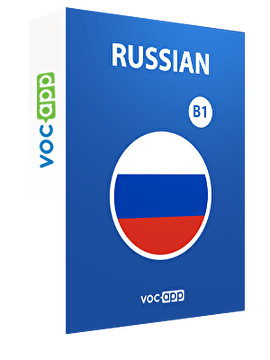 Russian B1
Broaden your Russian vocabulary (CEFR language level B1)!
Understand and speak the language of Tolstoy and Dostoevsky
Give yourself the chance to talk freely and fluently
Generate Russian sentences and phrases easily
Don't think about your pronunciation - our recordings will help you!
×
¿Alguna pregunta?
Crear una cuenta >

Seleccione una forma de pago

>

Pago

>

La confirmación del registro
prueba de forma gratuita (30 tarjetas)
comprar el curso completo
Character and personality




46 tarjetas

The arts




55 tarjetas

Body




36 tarjetas

Feelings




26 tarjetas

Health




45 tarjetas

Family and relationships




30 tarjetas

Job




42 tarjetas

Education




29 tarjetas

mostrar todas las lecciones (26)
Tu satisfacción total o te devolvemos el dinero.
Todos los cursos constan de una garantía de devolución del 100% del precio pagado.
Para utilizar la garantía no se requiere presentar ningún tipo de justificación.
Se puede utilizar esta garantía durante 30 días a contar desde la fecha de compra.
El dinero se devolverá mediante transferencia bancaria en la misma cuenta utilizada para la compra,
en un plazo máximo de 30 días a partir de la recepción de solicitud de uso de la garantía de devolución.
La solicitud de uso de la garantía de devolución se puede realizar vía correo ordinario, o mediante correo electrónico.
Marcin Młodzki
,
vicepresidente
(Varsovia, a 1 de octubre de 2018)
VocApp Sp. z o.o.
ul. Mielczarskiego 8/58 | 02-798 Warszawa

TAX NUMBER: PL 951 245 79 19
vocapp@vocapp.com
Dirección
VocApp Sp. z o.o.
ul. Mielczarskiego 8/58
02-798 Warszawa
NIP: 951 245 79 19
REGON: 369727696
Online Russian courses
Our flashcards will present you some of the most important Russian vocabulary for each of the levels of proficiency. All of the Russian words have been chosen by our linguists based on their usefulness and importance. Each flashcard will explain a word or phrase, will give you the Russian to English translation and an example sentence for you to see the Russian grammar of the word. The lector will help you with the Russian pronunciation, so don't worry about it! Our effective method guarantees you'll learn Russian fast and remember the new Russian words forever! Ready to start?
Russian B1
If you already know some Russian vocabulary and are interested in intermediate language lessons - we have a special online Russian course prepared! The intermediate proficiency will let you discuss your personal and professional life, participate in an interview, describe your lifestyle and hobbies, order food or shop in a store, start a polite conversation and much more! If you want to learn advanced Russian grammar and proceed to Russian language practice with a native speaker, you have to know this Russian vocabulary list! Intermediate Russian will also help you if you wish to speak freely to the natives or think about studying in Russia. Don't forget to download our Russian B1 flashcards as an MP3 file and learn Russian with audio! You can listen to Russian words translation and learn them whenever and wherever you want! Learn Russian fast with VocApp and achieve your goals!
Want more Russian courses?
We prepared many special Russian courses for all levels. If you want to practice Russian more before proceeding to the Russian B1 course, take a look at our Russian Words: Top 1000 Nouns course, and review all the most useful and common Russian nouns! After that, you could review the top 500 verbs and top 300 adjectives and start learning more advanced Russian vocabulary!
---