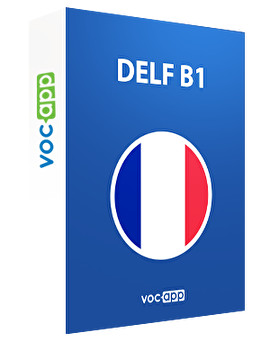 DELF B1
If you want to validate your level in French, do not hesitate to join us!
Come and practice your skills for a diploma awarded by the French Ministry of National Education
Validate your level of proficiency in French as a foreign language in all language skills
Get ready to combine fun and training with us!
This diploma training will allow you to feel more confident
×
¿Alguna pregunta?
Crear una cuenta >

Seleccione una forma de pago

>

Pago

>

La confirmación del registro
prueba de forma gratuita (50 tarjetas)
comprar el curso completo
Wishes and requests - Les souhaits et les demandes




18 tarjetas

Character and physical appearance - Le caractère et l'apparence physique




26 tarjetas

Body - Le corps




38 tarjetas

Feelings - Les sentiments




28 tarjetas

Health - La santé




63 tarjetas

Family and relations - La famille et les relations




42 tarjetas

Work - Le travail




46 tarjetas

House and apartment - La maison et l'appartement




31 tarjetas

mostrar todas las lecciones (35)
Tu satisfacción total o te devolvemos el dinero.
Todos los cursos constan de una garantía de devolución del 100% del precio pagado.
Para utilizar la garantía no se requiere presentar ningún tipo de justificación.
Se puede utilizar esta garantía durante 30 días a contar desde la fecha de compra.
El dinero se devolverá mediante transferencia bancaria en la misma cuenta utilizada para la compra,
en un plazo máximo de 30 días a partir de la recepción de solicitud de uso de la garantía de devolución.
La solicitud de uso de la garantía de devolución se puede realizar vía correo ordinario, o mediante correo electrónico.
Marcin Młodzki
,
vicepresidente
(Varsovia, a 1 de octubre de 2018)
VocApp Sp. z o.o.
ul. Mielczarskiego 8/58 | 02-798 Warszawa

TAX NUMBER: PL 951 245 79 19
vocapp@vocapp.com
Dirección
VocApp Sp. z o.o.
ul. Mielczarskiego 8/58
02-798 Warszawa
NIP: 951 245 79 19
REGON: 369727696
---