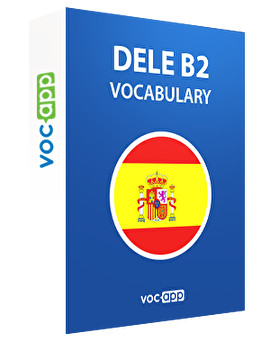 DELE B2 - Vocabulary
Prepare yourself for DELE B2 exam!
Get to know exactly what you need for DELE exam
1500 words of useful vocabulary
Words organized thematically (politics, art, religion...)
Master your Spanish and boost your confidence!
×
¿Alguna pregunta?
Crear una cuenta >

Seleccione una forma de pago

>

Pago

>

La confirmación del registro
prueba de forma gratuita (50 tarjetas)
comprar el curso completo
Transport




106 tarjetas

Time, calendar and frequency




74 tarjetas

Travelling and tourism




117 tarjetas

Sport




99 tarjetas

Shopping and service




106 tarjetas

Relations and emotions




90 tarjetas

In the countryside




43 tarjetas

In the city




47 tarjetas

mostrar todas las lecciones (14)
Tu satisfacción total o te devolvemos el dinero.
Todos los cursos constan de una garantía de devolución del 100% del precio pagado.
Para utilizar la garantía no se requiere presentar ningún tipo de justificación.
Se puede utilizar esta garantía durante 30 días a contar desde la fecha de compra.
El dinero se devolverá mediante transferencia bancaria en la misma cuenta utilizada para la compra,
en un plazo máximo de 30 días a partir de la recepción de solicitud de uso de la garantía de devolución.
La solicitud de uso de la garantía de devolución se puede realizar vía correo ordinario, o mediante correo electrónico.
Marcin Młodzki
,
vicepresidente
(Varsovia, a 1 de octubre de 2018)
VocApp Sp. z o.o.
ul. Mielczarskiego 8/58 | 02-798 Warszawa

TAX NUMBER: PL 951 245 79 19
vocapp@vocapp.com
Dirección
VocApp Sp. z o.o.
ul. Mielczarskiego 8/58
02-798 Warszawa
NIP: 951 245 79 19
REGON: 369727696
Learn Spanish
Did you know that Spanish is one of the most spoken language in the world? Indeed, nowadays around 580 million people speak Spanish all around the world and it has become the third most spoken language around the world. Therefore, as you can guess, reaching an advanced level of Spanish can open you a few doors, not only in the professional field, but also in your everyday life.
Prepare for the DELE exam
You are soon going to take the DELE exam and you want to make sure you are ready? In that case, VocApp has the perfect solution for you! We have selected a list of Spanish vocabulary to help you pass the DELE B2 exam. With more than 1500 Spanish words you will learn new Spanish nouns, new Spanish verbs and you will also know more about Spanish grammar and Spanish conjugation.
At VocApp, we know that learning a language can take time and a lot of efforts. So, with the help of our flashcard system, you will easily learn hundreds of words that you will never forget. You really want to better your level of Spanish and pass the DELE exam? Then stop worrying and start using VocApp! With us, you will successfully pass the DELE B2 exam!
More Spanish courses to improve your level
You completed this course and you want to learn more about Spanish language? With the DELE C1 - Vocabulary course, improve your level of Spanish and get ready for the next DELE exam!
And if you want to be a hundred percent sure that you are ready to take the DELE B2 exam, we suggest you take a look at the Spanish Vocabulary B1 course, as it will help you revise Spanish vocabulary that you may have forgotten about.
---